At the Mon Ame Memories Super Bowl Crop last weekend I did two layouts with hockey as the focus subjects.
This was done for a music inspiration layout. I am currently loving Pink's "So What" song and used it to do a layout about the fights.
I used misc cardstock, White Signo pen, Cricut Sports mania cartridge., Fiskars stamps and misc ink for title.
This was done for the funny photo layout. Used white signo pen, Stickopotamus XXL stickers, misc cardstock.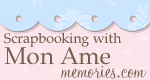 Here is a link to the Mon ame memories forums.
http://www.monamememories.com/forum/